If there's one thing beauty pageant contestants, especially winners, excel at, it's taking care of their body's nutritional needs to ensure that they are in peak physical condition — but the importance of nutrition extends to mental health as well, according to Lizzy Neutz, who attained the title of Miss Kentucky USA this year.
Neutz visited Johnson County Middle School on Friday, Dec. 2 to help impart that lesson to Sandy Hall's students, alongside Johnson County Kentucky Cooperative Extension Office Family and Consumer Science Program Assistant Senior and Supplemental Nutrition Assistance Program Education Agent Elaine Burton. The pair joined Hall to help the students prepare a meal of peppers and chicken while discussing the benefits of healthy eating for both mind and body.
"I'm Lizzy Neutz, I am Miss Kentucky USA, Elaine asked me here after we met a few months back at the Johnson County Farmer's Market and we just relate a lot over food," Neutz said, addressing the students. "I think food is the most important thing, because food is the one thing you can control. It's the one thing that you can put in your body and you know what's going in your body. It's really important to make sure you know what's going in and that it has good nutritional value."
Students were divided into groups as they prepped food for cooking, started their meals, cleaned up their prep areas and dishes and then ultimately sampled the meal.
According to Burton, she cooks with the class on some Fridays, and works with other organizations as well.
"I work with the nutrition education program, which means that I go around with the schools and other public entities and have classes at the office, as well," Burton said. "I teach people how to prepare good foods and we also talk about preparing, shopping and a whole list of things that we go over to keep your kitchen running well. Like Lizzy said earlier, nutrition is the most basic thing you have control of and the sooner you get control of what you're eating, it diminishes your risk of chronic diseases like heart diseases and diabetes and things like that.
"So, that's what my job is, I want to teach the kids and the earlier we get them, I feel like, the sooner they will start to eat better foods and have better outcomes," Burton continued. "They seem to enjoy it and a lot of the time I try to bring in some foods that are different and that they maybe haven't chosen or had a chance to try yet. I've been doing this for about nine years."
The partnership was born from a genuine interaction between Burton and Neutz, Burton said, as the two met at a promotional event at the Johnson County Farmer's Market and formed a friendship over their passion for the culinary arts.
"She came and worked with the farmers market as a promotion back in the summer and she came there and talked and she's big into culinary and recipes and she comes with her own recipes and kits and as we were talking, I said, 'Oh, my gosh, would you like to come to one of my classes,' and she agreed, and I was so thrilled when I found out that was her thing," Burton said.
Neutz said the age of the children in the class made nutrition even more important for them and their mental health.
"It's really important that you're feeding your body proper nutrition, especially at this age. You're growing a lot and you have a lot of brain development and at that age, I didn't pay attention to anything like that and I didn't care about my brain development and now, I wish I would have," Neutz said. "You are what you eat and it's important that it's something good."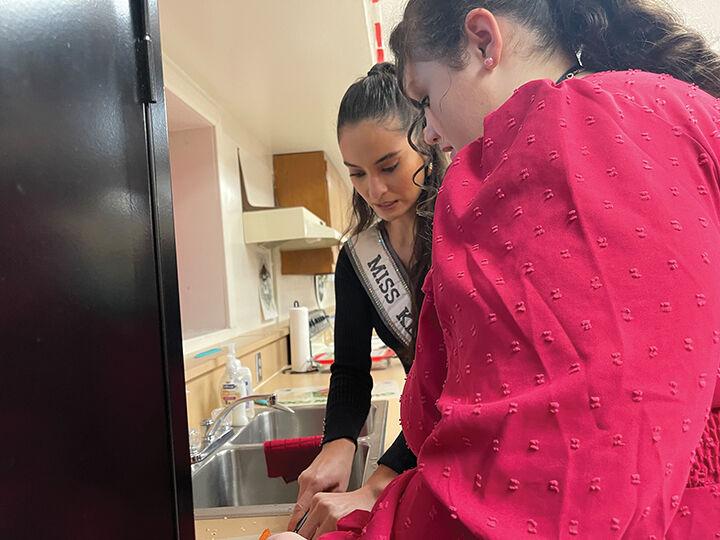 Life skills class isn't just about cooking, according to Hall, and the relatively young program at JCMS has also included lessons about financial management, such as keeping a balance and paying simulated bills and managing a budget, as well as lessons focused on entering the workplace, such as how to handle job interviews.
Hall said that having a guest like Neutz helps get students engaged with the class.
"Anything to get them here and engaged. More kids will come if they know they're going to have someone exciting to be here with and they love to come on days that we cook, that's a motivation for them. We try to do healthy things, especially on days that Elaine comes," Hall said. "We also talk about the effects of drug abuse and vaping, which is a big thing at middle school age, so we talk about that as well."
Neutz also visited the general student body after meeting with the Life Skills class and continued the theme of promoting good mental hygiene and emotional health, especially as such a transitional time as the years of the typical middle school student.
"I'm going to speak to them about resilience and coping with change," Neutz said.
After her speech, Neutz hung around for photo opportunities with each of the students.