Hobby Lobby Stores has acquired the vacant and blighted former Valence Street Baptist Church. But the retail chain isn't planning to place one of its big box craft stores in the heart of Uptown.  
Rather, the Oklahoma-based company will lease the church in the 4300 block of Magazine to a new congregation, NOLA Baptist Church, in search of a home. Eventually, Hobby Lobby plans to donate the property to the congregation, company officials said.
NOLA Baptist Founding Pastor Kyle Jagers said Hobby Lobby reached out to him earlier this year as his congregation was raising money for a new church. They offered to step in and help facilitate the purchase of the property from the New Orleans Baptist Association.
He said he was surprised and stunned.
"It seemed too good to be true," said Jagers, whose church is currently based out of a converted warehouse on Tchoupitoulas Street. "But, praise the Lord, it is true." 
The deal, though unusual, is not unique to Hobby Lobby, whose owners make no secret of their Christian faith. Over the past 20 years, the company has quietly executed about 85 similar transactions around the country as a way to support faith-based nonprofit organizations and churches, said Hobby Lobby real estate representative Les Miller.
"We look for opportunities where we might be able to help a nonprofit by purchasing a piece of real estate and then, hopefully, at a later date, selling them the property," said Miller. "It's part of the mission of giving."
Demolition by neglect
The iconic church is a historic landmark in an ideal location. It was designed in 1885 by prominent architect Thomas Scully in the so-called "stick style," named for its use of overlay board strips on the outside walls. Its façade is dominated by a distinctive square tower and has been described as the most architecturally significant church frame in New Orleans, according to the Louisiana Landmarks Society.  
But since it was vacated seven years ago, it has been in dire need of repair. As recently as November, it was cited by the city for demolition by neglect. Among the issues noted in the citation were broken windows, missing roof tiles and hanging gutters.  
The Louisiana Landmarks Society also called attention to the church's condition, including it earlier this year on its 2022 list of New Orleans' most endangered properties.
The property's previous owner, the New Orleans Baptist Association, which was gifted the property in a donation more than a decade ago, could not afford to make repairs, according to Alex Brian, a business manager with the association. They also had trouble attracting a buyer because the donation required it be returned to use as a church.
"That put us in a pretty tight space because it will cost at least $1 million to get it back up and going," said Brian. "It's difficult to find a church buyer that is looking to move and also is able to spend $1 million on a renovation."
Brian said the association frequently fielded calls from real estate brokers interested in redeveloping the property. But the association was hamstrung by the stipulations in the donation and the building's historic landmark status.
"We wouldn't have wanted it to be redeveloped anyway," he said.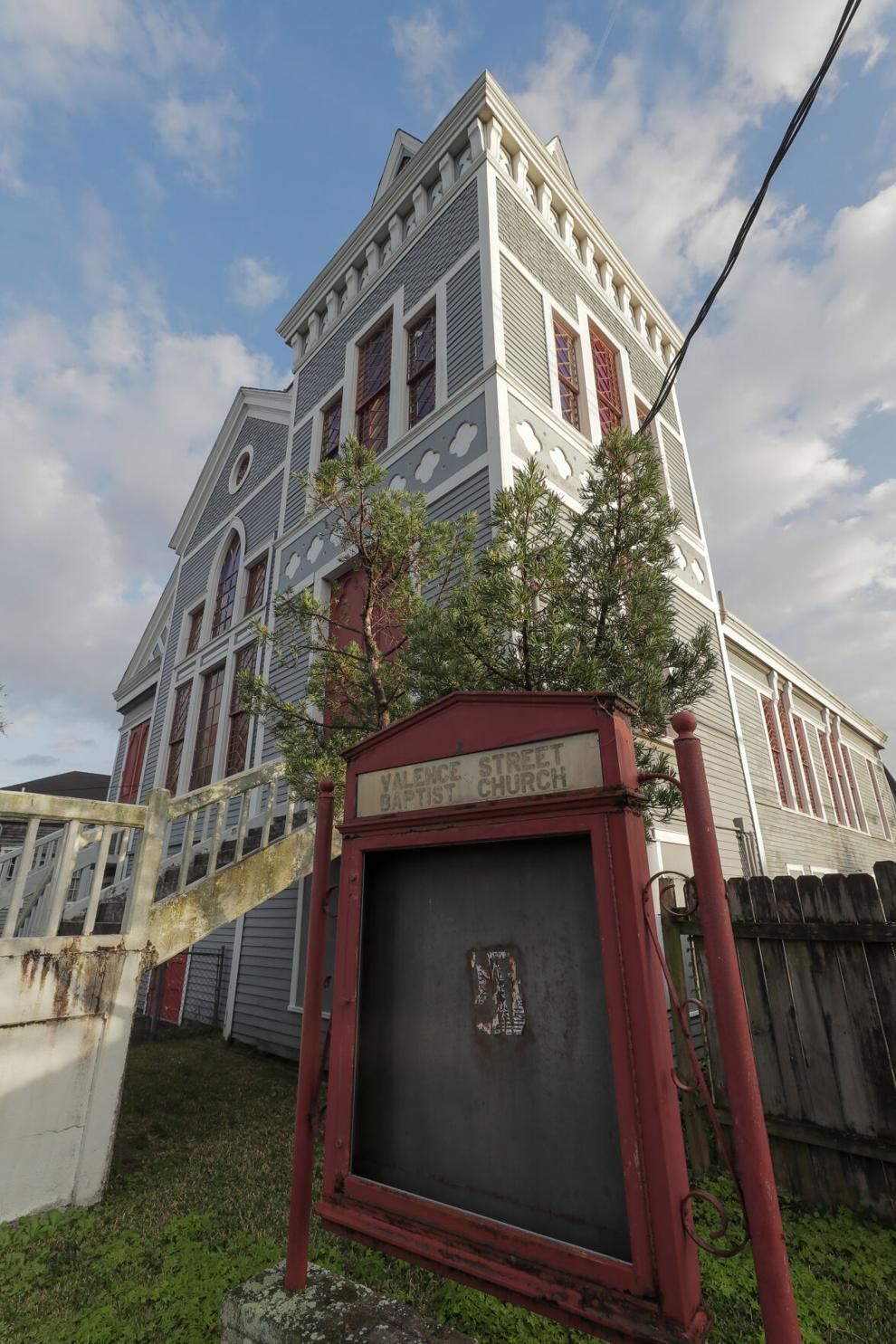 Earlier this year, NOLA Baptist approached the association with an offer to buy the vacant church and an adjacent building, and the two sides signed a purchase agreement.
But in the course of ongoing fundraising for the purchase and eventual renovation, Jagers was approached by Hobby Lobby.
"It was just literally through the grapevine," he said. "Someone I had called must have called them and reached out to me out of the blue. I didn't even know about this program."
So far, NOLA Baptist has raised about $500,000. Hobby Lobby purchased the property for $275,000. The agreement with the retailer means the money NOLA Baptist raised can now be spent making immediate repairs to the building to address its code violations.
Jagers estimates it will take an additional $1 million to completely renovate the property and begin using it as a house of worship. He said it's too soon to estimate when it might be completed.
Asset not a burden
Hobby Lobby's Miller said the company plans to donate the property to NOLA Baptist once the repairs have been made, which he estimates will be in 12 to 18 months.
He would not disclose the amount of lease payments, but said NOLA Baptist is obligated to bring the building back up to code before the company turns it over to them.
"Basically we have asked them to take care of the maintenance of the property and meet all the criteria of the city and the historic district," Miller said.  "We want to make sure they are financially stable before we turn it over to them. You want a gift to be an asset for a nonprofit or ministry, not a burden."
In the two decades that Hobby Lobby has been working with churches and nonprofits in this capacity, the company has never evicted a tenant it was trying to help, he said.
But in some cases, Miller said, they "have had to change directions because it became evident they probably couldn't handle owning the property and had not invested significant money in renovating it."
Jagers is confident that won't happen with NOLA Baptist.
"They're trying to do the right thing and we're determined to make this work," he said.