MATT KOLB'S UI 150 & BEYOND PROFILE: 'I kissed my girlfriend at the Eternal Flame on the Quad; it may work because a few years later we celebrated our wedding reception at the Illini Union and have been happily married since.'
---
On a 1-to-10 scale, MATT KOLB would rate the impact of the pandemic … higher.
"For health-care workers," he says, "I'm not sure a 10-point scale does it justice."
A Champaign native and alum of Unit 4's Robeson Elementary, Jefferson Middle and Centennial High schools, Kolb is the executive vice president of chief operating officer at Carle Health.
Kolb has been in the health care business since earning degree No. 3 — from the University of Missouri School of Law. After seven years with Alina Health in Minneapolis, he moved back home In 2014 and proceeded to climb the Carle administrative ladder — from VP of operations to senior VP of specialty care to executive VP and chief administrative officer to his current role.
The son of a longtime UI crop sciences professor, who earned his bachelor's degree in political science and government from his hometown university, Kolb now calls Savoy home, along with wife Andrea, 13-year-old son Ethan, 11-year-old daughter Johanna and two pooches, Zoe and Sky.
Kolb took time out to answer questions from Editor Jeff D'Alessio in the 158th installment of our weekly speed read spotlighting leaders of organizations big and small.
---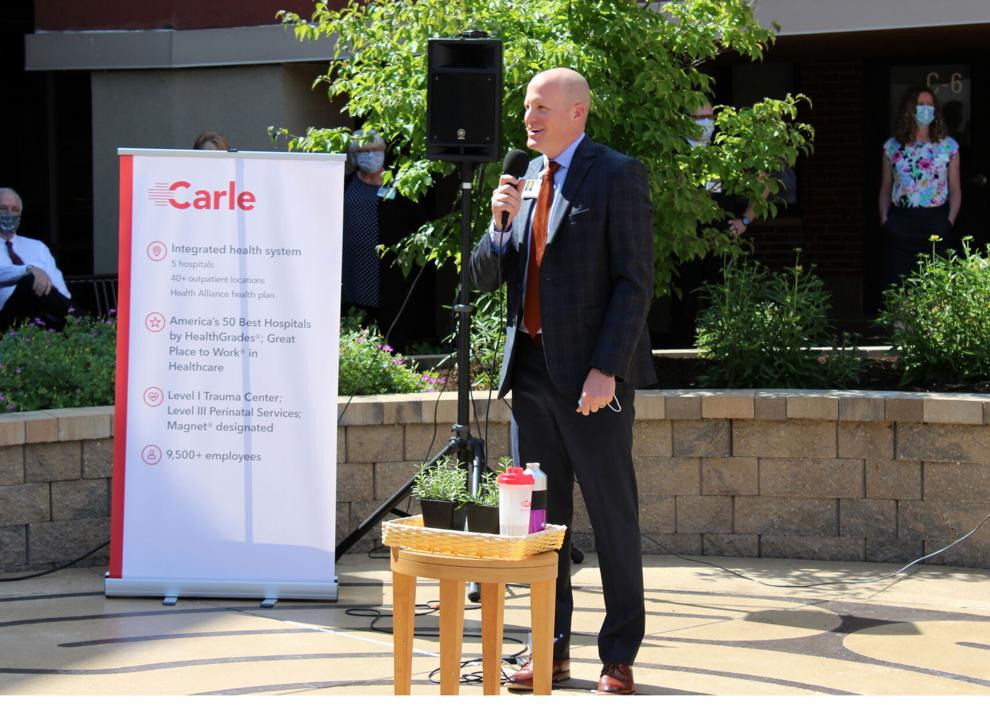 I can't live without … going out to dinner with my wife a couple times a month. She keeps everything centered and in perspective for me.
I also try to take trips outdoors a few times a year — the more remote, the better, and preferably to go fly fishing.
My one unbreakable rule of the workplace is … put patients first and provide the care and service that you would want for your own family. That is health care's golden rule.
My philosophy on meetings is … be clear about the meeting's purpose, send material at least 48 hours in advance and end the meeting with a summary of decisions or follow-ups.
The hardest thing about being a leader is … I always try to view the pressures that come with this job as a privilege. That mindset helps when times get tough.
Sometimes things go just as planned, but the real leadership test comes when they don't — often for reasons beyond our control. Working through those challenges is the hardest part of leadership, but also the most rewarding.
When it comes to my single favorite moment in this job … health care has been especially tough the past few years. Seeing how Carle's teams have risen to the call again and again in the face of constant change and difficulty has been inspiring.
It's humbling and motivating to play a part in supporting the 11,000 — soon to be 16,000 — people that come to work each day to care for patients and our communities.
The three adjectives I hope my staff would use to describe me are … wise, kind and dependable.
On my office walls, you'll find … not much. I keep it pretty simple.
As far as my professional role model goes … in addition to amazing and supportive parents, I am so fortunate to have had many great teachers, coaches and mentors in my life.
Dr. Penny Wheeler, retired CEO at Allina Health in Minneapolis, has been an incredible mentor. She leads with utmost integrity and credibility.
Dr. Jim Leonard, Carle's CEO, has also been a great mentor. He is unflappable and has helped me appreciate the importance of maintaining focus on long-term goals, even in the face of near-term challenges. That's a lesson I'll carry with me the rest of my career.
I'm frugal in that … my non-work wardrobe is well-worn. My family jokes about my "weekend uniform," which is mostly hoodies.
If I could trade places for a week with any other business person in town, I wouldn't mind switching with … any one of the amazing non-profit leaders we have in this town.
There are so many organizations working to serve people in our community that need it most — United Way, Crisis Nursery, CASA, Boys & Girls Club and many more. It would be great to spend a week with leaders at those organizations.
I wind down after work by … spending time with my son and my daughter — it doesn't matter what we do.
The last luxury in which I indulged was … about a year ago, when we ordered a small off-road teardrop camper. Due to supply chain issues, we won't have it until spring. I can't wait to take it someplace off the grid.
The most beneficial college class I took was … probably Health Law during my second year of law school. That was the class that introduced me to health care and set me on a different career path than I had planned.
I'm up and at 'em every day by … 5:30 usually. I like to get into the office early and prepare for the day. Most days don't go as planned, of course, but an hour of quiet with a cup of coffee is a good way to start.
My exercise goal is … just to get workouts in. I like to run and bike. I have a punching bag that I box on a few times a week and recently I've been trying to learn tennis, but that's a work in progress.
The worst job I ever had was … one summer in college, when a couple buddies and I decided to try running our own college pro painters crew. The job itself wasn't bad, but we were pretty bad at it.
I recommend people stick with professionals.
This story contains original reporting by News-Gazette staff. If you are not a subscriber, please consider becoming one, because local journalism is only possible with your support. A subscription to The News-Gazette plays a vital role in making this reporting possible. Thank you for your support and helping us continue to connect our community.